[rev_slider alias="private-beach"][/rev_slider]
The area belongs to the environmental protection network Nature 2000, because it is a habitat for dolphins and seals. It is a completely private, low-to-zero crowded people location and can be accessed only through our properties or via a boat. The beach is covered with small white pebbles and bits of sand. The crystal blue and turquoise waters will blow your mind.
T
he wonderful private beach of Ammoudi is located underneath the complex of the four villas Eos, Helios, Iris and Fos. If you are staying at villa Geofos you will need to do the extra mile (literally it is ~1.3km) away from the hike's start). From Geofos you can also drive and park near villa Iris, there is enough space, so you won't disturb other guests.
"One of my most wonderful memories. The walk to the beach is something special. Honestly, it wasn't the easiest to get there, but once you reach it, you find a small piece on earth that will blow your mind."
What is the duration of the hike?
The duration of the hike is about 15-20 minutes if you are an experienced hiker or if you want to make it a nice workout. It is about 25-35 minutes if you want to enjoy nature and take it slow. The way down is slippery and requires careful steps and attention, while the way up is easier in terms of technicality, but more exhausting.
Walk to villa Iris, as you face the sea, it is the villa on your right, at the lowest level. You pass behind villa Iris and you follow the wide path.

At some point the wide path goes right (again as you face the sea) and a narrow path goes left. You follow the narrow path on your left.

Through the entire hike there are sprayed blue signs. Please follow the blue signs.

As you pass the final meters under the forest, you will need another 2 minutes to reach the small heaven.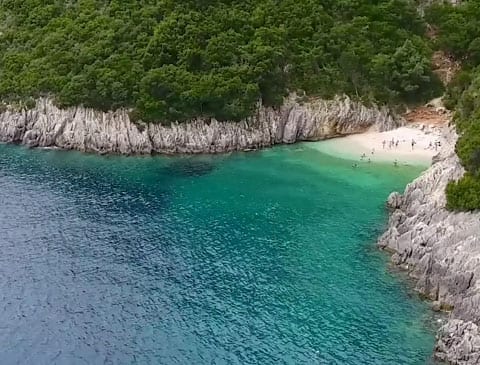 Essentials, before you go:
Have water with you

Have a charged mobile phone 

Wear sneakers or hiking shoes

Wear a hat, there is limited shadow

Avoid mid-day very hot hours

Best time to go down: Sunrise

Best time to get up: before 12:00
Would you like more insight?
Feel free to contact us if you want more information about private beach of Ammoudi, or if you have any other questions about the villas, the place or our retreats here.